Evening, all!
It has been so ridiculously busy! My ward choir is now in full swing, and it's been such a fun, frustrating, and VERY humbling experience. But I'm really loving the Regs. I think we all kinda bonded our first week together, and it's been so easy to work with everyone ever since. But hey, didn't they do that study before? People that sing together bond and cooperate better? It seems I read that somewhere on Cracked... (see? I'm not crazy. You can find the article
here
.) But anyway, that's the simple part of things. I'm also getting ready to jump into YSAs here in SA and start going to institute, which is going to get somewhat complicated considering I JUST GOT A JOB!! Yay!
Part of the reason I moved here is because there was so little work in Idaho, and since I've been here, I've barely even really been looking. This job came from, like everything else, church. One week, in my YSA class, I heard a lot of crying coming from the nursery and went over to offer to help out, and they ended up refusing to let me leave (the kids, anyway). But there was another woman in there who was also just helping for the day, and we got to chatting... about family, about work, about... whatever. Then, last Sunday, I ran into her again, gave her a hug, and said hi, and she goes on and tells me that she talked to her daughter about me, and that she wanted me to apply to a job. A few days later, she calls and gives me her daughter's number, the next day I went in for an interview (and to... you know... apply), and she gave me the job before I left.
Glad to know networking is alive and well. And VERY glad to know that the economy isn't totally shot.
And THEN, on top of EVERYTHING else, my totally awesome sister, Sheli, is GETTING MARRIED!! I'm thrilled! The guy, Mark, is so very nice, and honestly, he almost felt like my brother the first time I met him, he's just the kind of guy you feel comfortable being around, even when you're complete strangers. And the cherry on top is his daughter, Courtney, whom I love. And while she'll technically be my niece-through-marriage, we're just gonna call her my little sister, how's that? I'm so excited that our family is growing! And it's going to be fantastic to help plan the wedding! Yay! Chance to try all those fun crafts that only really work for weddings!! Eeeeee!
And, now that I've rambled long enough, here's my newest recipe.
I've adjusted another recipe, but my family wouldn't shut up about mine, and it used more readily available ingredients. Always a plus! Overall, it was a huge hit!
Here you go!
Cashew Chicken Wraps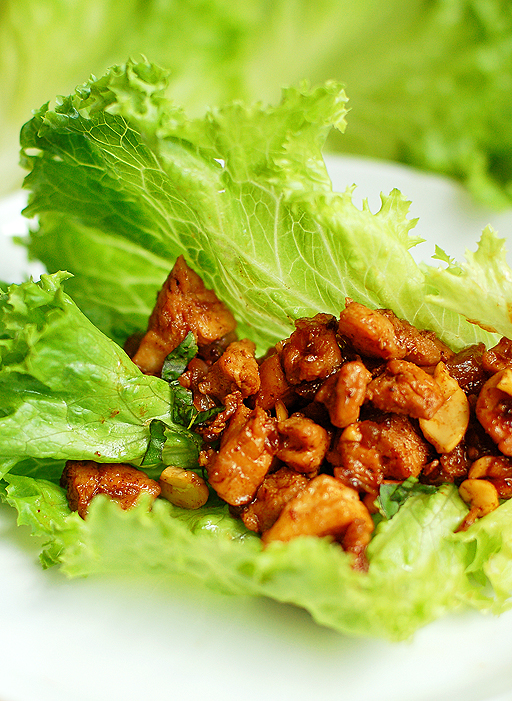 This was quick, easy, and utterly delish. It was also shockingly filling. I made it about a week ago, and I'm already getting requests for it again (and, I'm totally willing!)
Ingredients (4 servings):
For Sauce:

3 tablespoons soy sauce

-(I used dark soy sauce, which is a little smoother in flavor and gave the chicken a great colour when it was all mixed together.)



1 tablespoon white wine vinegar
-(original recipe called for rice vinegar, which is sweeter. I used a little less of the white vinegar and then added a tiny bit more brown sugar, along with a tiny bit of water, to make the flavor lighter. It worked perfectly well.)


2 tablespoon brown sugar


1/4 teaspoon ground red pepper


1/2 teaspoon mince garlic WATER
-(I got a can of minced garlic that I just found at the dollar store, and it had the water left in. I did my best to just get some of the water out).


1/4 teaspoon lemon juice
-(optional - the original recipe called for a little bit of ground ginger, which I couldn't find. To improvise, I used a little extra soy sauce and the garlic water. But I wanted the tang you usually get with ginger, so I had the end of a lemon, so I squeezed the juice in. It added just the right amount of sour!)


1 teaspoon olive oil (you can substitute peanut or sesame oil).

For Cashew Chicken:

2 chicken breasts (about 3/4 lb. total), diced


8 leaves of greenleaf or iceburg lettuce


3 tablespoons olive oil (or oil of choice)


1 cup onion, diced


1 teaspoon minced garlic (or 2 garlic cloves, minced)


1 teaspoon soy sauce


1/2 cup cashews, chopped (because I used olive oil instead of sesame oil, I threw in some extra to the sauce to add a little nutty goodness to the sauce, too.)
Instructions:
Mix all wet ingredients in a medium bowl and add brown sugar. Stir until dissolved.
Mix in the rest of the sauce ingredients.
(OPTIONAL) Saute some cashews in a small amount of oil until golden, then add the cashews and the oil to the sauce
Heat oil in pan over medium-high heat. Toss in diced chicken and brown well. I cooked mine until it had a little bit of a crisp sear. Remove from pan.
Add onions, garlic, and soy sauce to the pan, and saute until onions and garlic are soft and browned. Mix in the stir fry sauce. Mix well.
Add in the chicken. Mix well.
Add in the cashews. Mix everything is coated in the stir fry sauce.
Spoon mixture onto lettuce leaves. Go easy on this, because the cashews are very good at tearing through lettuce.
If the need strikes, add hot sauce, basil, or extra cashews. We didn't even need it though. It's just that yummy.
We ate ours with some baked chips/crackers (especially good with those sesame rods!), fresh veggies, and fruit.
Enjoy! And anybody who tries it, please let me know what you think!!
XOXO, E